KMD Pro Speed Mentoring™
A unique program that matches up industry mentors with students in a one-to-one meetup that can last from 5 to 10 minutes, mentors and students are limited to 20 each and the match-up is totally random. Check out Speed Mentoring in the media in Mix Magazine, Mix Online, RecordingMag, and ProSound Network.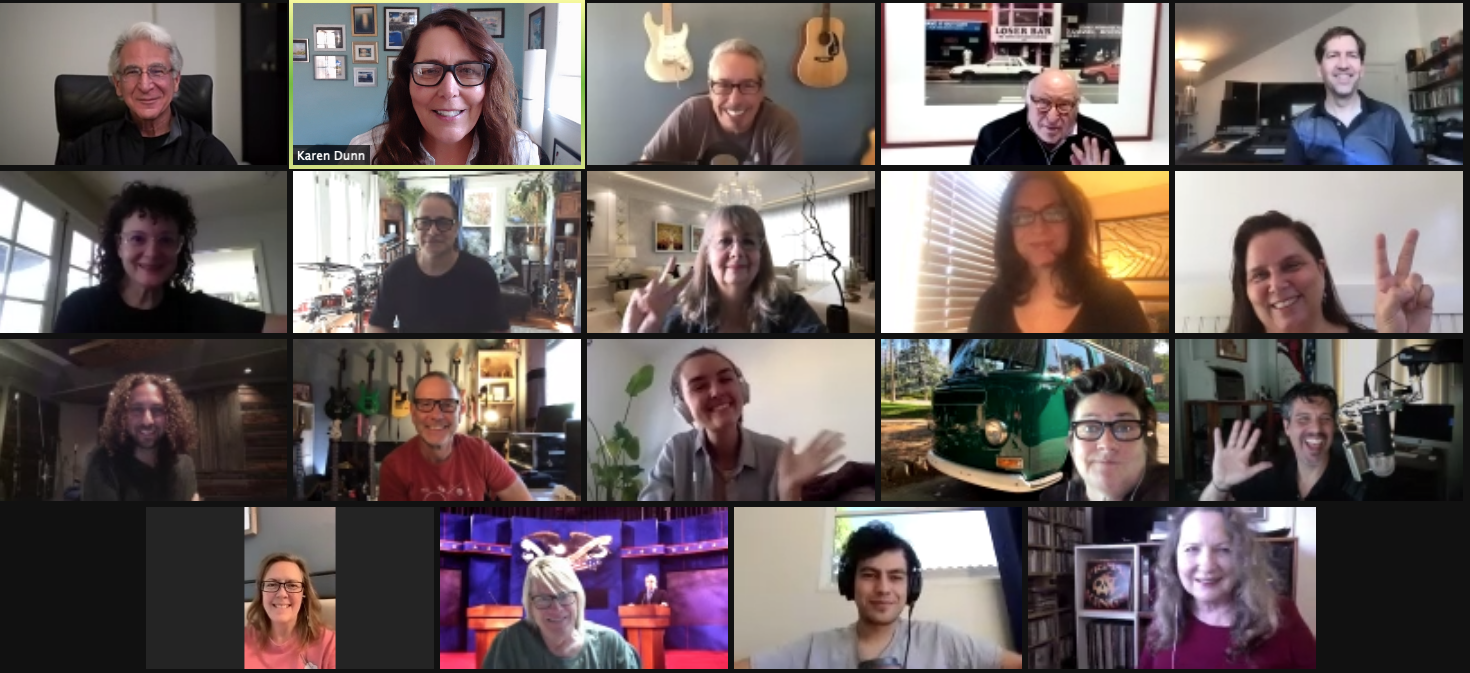 "The chance to chat one-on-one with a room full of esteemed professionals was such a remarkable opportunity. There were Emmy and Academy Award winners, masters of their craft. But more than simple career advice, I think the mentors today helped our students see that there are real passionate and creative people at work here. Their personal stories likely helped more than a few students today turn a dream of working in film and TV into a realistic goal."
Dave Cheng
Head of Communications Technology, St. Elizabeth CHS
"Karen Dunn's Networking Zoom calls have not only been a highlight of my week but they are also a huge factor in my business development during COVID.
Most of us are on some sort of quarantine and crave interaction especially with likeminded people. We are also looking for new ways to develop business and stay relevant in an ever changing industry.
Karen's Zoom calls open a door to meeting people I have always wanted to work with in Pro Audio and Music. I have made some great new friends and on each call I have made a business connection of some sort. It has honestly been one of the best things to come out of our industry during quarantine!
I just hope she keeps inviting me."
Becki Barabas
Harman Professional Solutions' Manager, Global Product & BD Support
"Being face to face with some of the industry greats was a truly humbling and beneficial experience. I gained so much knowledge through the mentors sage advice in such a short amount of time.  I learned so much about what to expect in the industry, how I should present/ conduct myself, ways to stay organized in high stress situations, ways to work around creative blocks, and even how to analyze trends to help stay one step ahead of the competition. This opportunity not only gave me insight to the world of audio but also helped me network with some of the biggest names in the business.  I feel truly blessed to have been a part of this experience."
Sasha Golowatsch
CRAS Student
Karen Dunn provides the opportunity for us to help inspire others and build the future of our audio community. It is such a honor to be able to be a part of her Speed Mentoring team.
EveAnna Manley 
President
Manley Labs
"Every industry requires the handling of information from one generation to the next to ensure best practices.  The use of tech to enable speed mentoring during a time of pandemic and unrest in which we are all physically isolated from one another, reminds us that in fact we can have a work around to keep the blood flowing through the veins keeping the vibracy of this process alive.  Thrilled as always to participate in the health of the music industry, a passion always at the forefront of the efforts of Karen Dunn and KMD Productions."  
Gavin Lurssen   
Mastering Engineer  |  President, Lurssen Mastering, Inc
In a year filled with disappointment and missed opportunities, Karen Dunn's speed mentoring session offered something really special for me and my peers; a true highlight of these dark months in isolation. If this pandemic has given us anything, it's time: I got 8 minutes to speak with multiple audio professionals who, under normal circumstances, rarely have minutes to spare.
Bella Boshara
Student at UCLA
Testimonial from 2020
"The virtual mentoring sessions have given our students unprecedented access to converse one-on-one with some of the top talents in the audio profession.  Receiving personal guidance and expert advice from multiple mentors within the same session is truly inspiring.  The speed mentoring format also provided our students the opportunity to practice making those introductory conversations that are essential for building strong networking skills."
Nancy Scharlau-Murman
CRAS Instructor / Faculty Advisor for CRAS Women of Audio
Having the chance to directly talk with great role models in the industry was both inspiring and motivating. The opportunity to chat one-on-one with a professional was a unique experience that is quite hard to come by even during career fairs on campus. The time-limit was an interesting factor to mix into the interview process, it definitely helped spice things up!
Joseph Cho
Student at UCLA