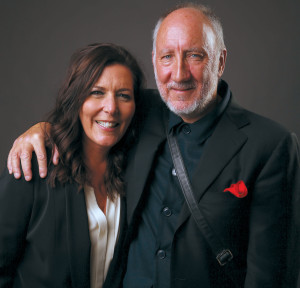 Based in the San Francisco Bay Area, KMD Productions offers full-service event coordination and management for businesses and nonprofits throughout the United States.
Founded by Karen Dunn, whose experience managing high profile music awards shows and golf tournaments spans 30 years, KMD Productions can handle all the details of your fundraiser, corporate function or trade show event. Whether you're looking to launch a new product, get better brand recognition or raise money for your worthwhile charity, KMD Productions has the resources and experience to help you achieve your goals.
Contact KMD Productions
for a complimentary consultation.
Photo: Pete Townshend—renowned recording artist and composer—was awarded the Les Paul Award at the 28th Annual Technical Excellence & Creativity Awards.  Karen Dunn and KMD Productions is now working on the 33rd Annual TEC Awards to be held Saturday, January 27, 2018 at the Anaheim Hilton.

"Karen Dunn is an extraordinary event planner who is widely respected for her creativity, her work ethic, her attention to detail and her absolute integrity. Her fundraising and organizational talents are second to none, and she's renowned for her extraordinary ability to exhibit grace under fire while dealing equally calmly with everything from demanding celebrities to technological mishaps."
—Maureen Droney
Senior Executive Director/Producers & Engineers Wing, The Recording Academy, Santa Monica, CA